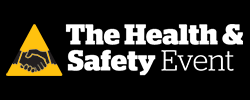 Launched in 2007, Western Business Exhibition's has since held a series of health and safety events throughout the UK. Expanding rapidly with the support from the industry's leading voices and stakeholders the next health and safety event will be held 11th – 14th March 2014 at the National Exhibition Centre (NEC) in Birmingham, West Midlands.
Each event hosts the very best of the UK health & safety industry at a strategically located venue. Combining ease of access with affordability and measurable ROI for the exhibitor is what makes the health and safety events popular.
With a significant increase in demand from both visitors and exhibitors, this new 3 day Exhibition and Conference will be held in conjunction with established exhibitions including MAINTEC 2014 and Facilities Management 2014, guaranteeing attendance from thousands of manufacturing, construction, commercial and public sector businesses.
With continued support from The British Safety Council in delivering the highest quality and free conferencing and education, there is now a safety exhibition and free educational conference programme at three excellent venues in the UK. So, if you're responsible for the health and safety of your workforce then there is a free-to-attend event near you, wherever you are.
Register for the Health & Safety Event using the link below;
http://www.eventdata.co.uk/Forms/Default.aspx?FormRef=Hea34Visitor